October 4, 2023
We Will Exhibit at the Luncheon Seminar and Corporate Exhibition at the 42nd Annual Meeting of the Japanese Society for Dementia Research
Soundwave Innovation, Inc. will participate in a luncheon seminar and corporate exhibition at the 42nd Annual Meeting of the Japanese Society for Dementia Research to be held at the Nara Convention Center/JW Marriott Hotel Nara from Friday, November 24 to Sunday, November 26, 2023 (Booth No. 1). (Booth No. 1).
We will be exhibiting the actual LIPUS-Brain, which has been approved as an unapproved medical device exhibit.
Prof. Shimokawa, Founder and Chairman of the Board of Directors, will give a lecture on the development of LIPUS-Brain at the luncheon seminar.
【Outline of the Lecture】
Date: Friday, November 24, 2023
Time: 12:20-13:10
Venue: Room 6 (Conference Room 205, 2F, Nara Convention Center)
Session:Luncheon Seminar 6 "Development of Low-Power Pulsed Wave Ultrasound Therapy for Early Stage Alzheimer's Disease
Chairman:Hiroyuki Arai
Speaker:Hiroaki Shimokawa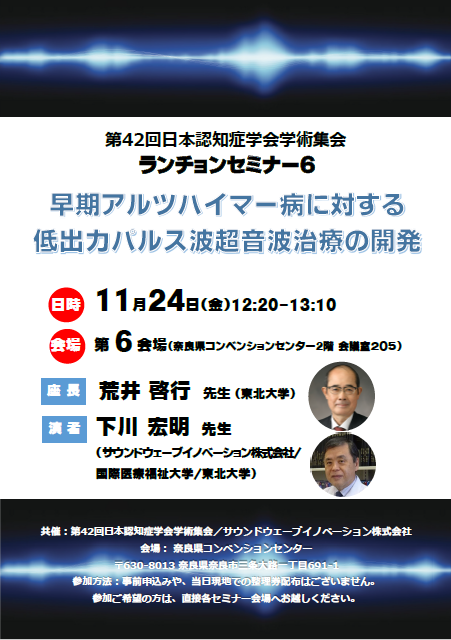 For more information about the 42nd Annual Meeting of the Japanese Society for Dementia Research, please visit the following URL
https://www.c-linkage.co.jp/jsdr42/